Steven DuBarry
Your 4 Pillars Debt Relief Specialist in London, Ontario
What makes Steven DuBarry the right Debt Specialist for you?
Advice YOU can TRUST!
After getting his degree from Colgate University, Steven served as a Police Officer for 18 years with two of the largest services in Ontario. The reason for pursuing this career was out of genuine interest to HELP PEOPLE. Unfortunately, his career was cut short due to an injury. However, upon finding 4 Pillars and what we do for Canadian's in debt, he instantly saw how he can continue to help those in need. Steve's London franchise is also part of the BBB and carries an A+ rating!
Steven Understands Your Situation
He understands what your debt is costing you: financially, personally, and professionally. He has both empathy and compassion to make sure YOU get the best possible outcome. In an industry where many clients do not know whom to talk to or where to turn, you can be sure that Steven and 4 Pillars Consulting Group are both qualified and excited to help you find much-needed relief from your debt.
---
Let Steven help reduce YOUR debt.
As your 4 Pillars Debt Specialist, Steven can help create a strategy to reduce your debt by up to 85%, often allowing you to eliminate your debt within 2-5 years. Steven works for you, not your creditors, so you are assured your best interest is his priority. After your free initial consultation Steven will create a plan to eliminate your debt; offering options you may not have thought possible. He will work with you to create a manageable budget and rebuild your credit. With debt restructuring programs, debt elimination, and settlement programs available, Steven will find the solution that works best for your situation.
What Happens If You Don't Get Help With Your Debt?
DEBT is the number one reason marriages fail, businesses go bankrupt and Canadians live with an overwhelming amount of stress and anxiety. 4 Pillars was created over 18 years ago with one goal in mind, to represent their clients with compassion, understanding, and respect, while helping to reduce, even eliminate their debt. Using their expertise in the industry and educating their clients throughout the whole process, the 4 Pillars Model is one to be envied. With a 97% success rate, 4 Pillars clients look forward to a debt-free future and all of the peace of mind that entails.
Learn the Financial Literacy Skills Nobody Else Taught You
You do not just want to get your debt reduced and paid off – you want to make sure you gain the knowledge so you can move forward with your life and never get into financial trouble again. All of our plans include online access to our comprehensive Aftercare Program which can be completed in the comfort of your own home. These are vital skills we all need. However, nobody ever taught us. You are able to share this course with your children to ensure they never get into financial trouble in the future – you owe it to them to prepare them for their future.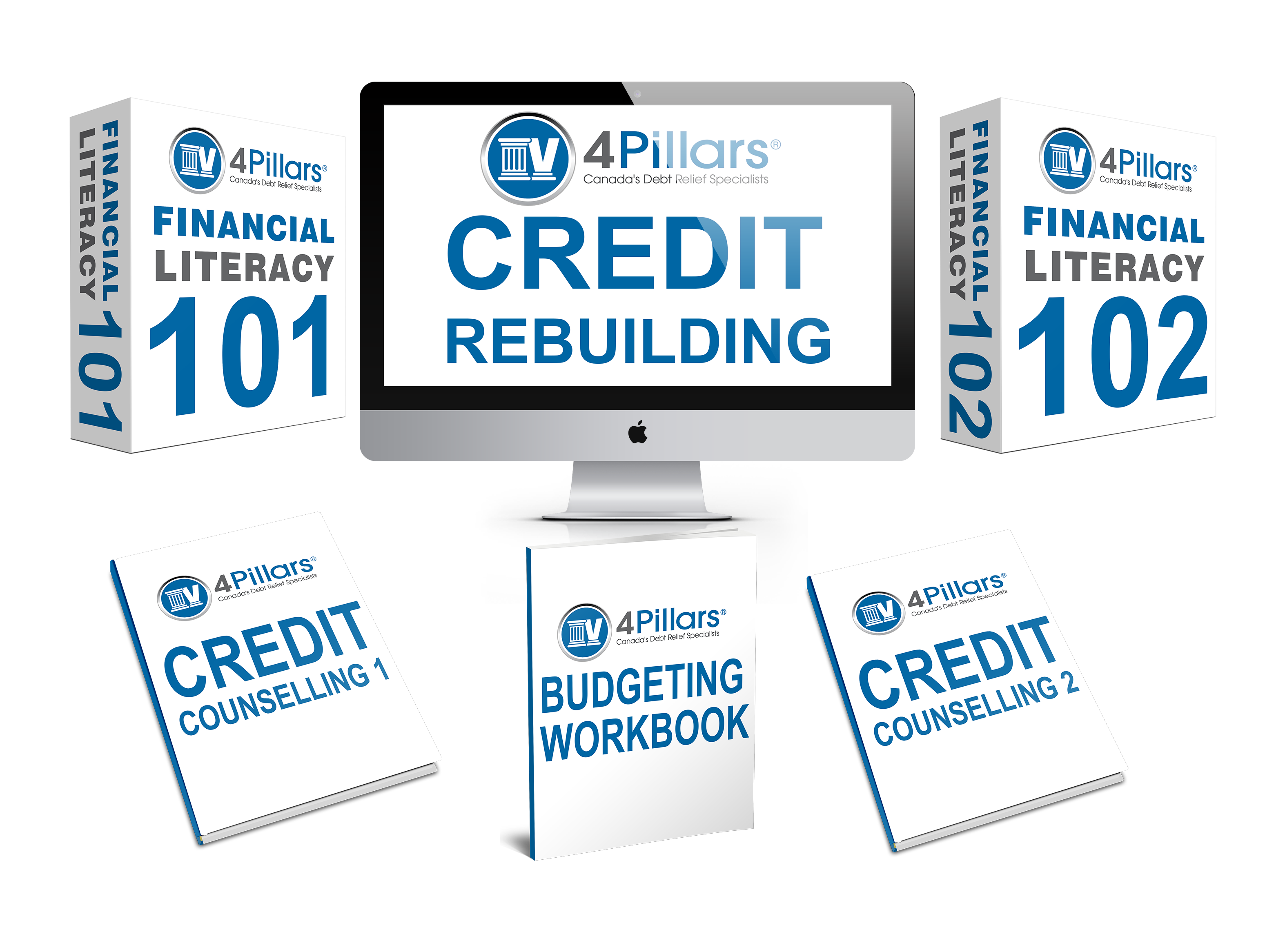 Rebuild Your CREDIT
4 Pillars' relationship with their clients doesn't end once their debt is reduced. They work with their clients, educating them while helping to rebuild their credit. So when their clients are ready to re-enter the world of credit they do so armed with knowledge and the confidence to avoid future debt as well as the ability to spot a predatory creditor who will take advantage of them.
Don't Take Our Word For It – See What Steve's Clients Are Saying - as seen on Trust Pilot
I was very skeptical at first and put off calling for many months. When I did call and made an appointment, Steve Dubarry from the start made us very comfortable and explained the whole process in layman's terms so even my husband, who has Parkinsons understood. Even then I felt that the ball was about to fall at any time and we would not be approved. But, I was proven wrong and the process is almost complete. Stress is a bad factor for people with parkinsons and this has helped eliminate the stress and for that I thank Steve and everyone else that made this a reality.
- Ann Barnes
Steve DuBarry changed my life. I have been in debt for longer than I can remember, recently divorced with a young child. I had met with a trustee before meeting with Steve, and wow I am glad I did not sign that day. The trustee suggested a consumer proposal for my huge debt and recommended offering $550/month for 60 months, but told me that I should expect to pay $750/month. I actually thought this was a great option considering how much I owed. Before I went to sign, a family member suggested I meet with Steve first. He saved me thousands! Steve was able to get my proposal approved at $200/month and was fantastic to work with. If I had not taken the advice to call Steve, I would have paid between $33,000 - $45,000 through a consumer proposal. Through Steve, I was approved at $12,000! I was floored and will be forever thankful. If you read this, you need to call Steve DuBarry!
- DF
I would 100% recommend seeing Steve at 4 Pillars. He is very professional and treated me with respect. I never once felt ashamed or embarrassed talking to him about my financial problems. He is extremely understanding and genuinely wants to help. Everything was dealt with very quickly and I couldn't be more pleased with the whole experience ! I'm looking forward to the continued support of 4 Pillars to start rebuilding my life!
- JW
Thanks to Steven DuBarry. I can now be stress free and focus on my future a lot more without feeling stuck. He helped me understand what I was doing and made sure that this was the best choice for me before letting me sign any papers. I recommend if you have any financial issues to go see Steven or anyone who works with him at 4 Pillars. They work towards helping anyone find the best solution for their financial situation. Thanks again!
- MG
Steve's compassion and understanding made a very difficult experience one less burden to bear. He went above and beyond to help me, and has absolute integrity. I highly recommend him.
- Aibreán OFearraigh
Steve was the best you could ever ask for he does everything in his power to help you and your financial situation. He never once made me feel uncomfortable about the situation I was in and not one once of doubt that I would pass. I highly recommend Steve if you need any help with your financial situation
- Michael Gaudio
Steve was absolutely amazing to work with, he made sure that I understood all of my options available to me and helped me choose the best one in my situation. I definitely wouldn't have been helped if it weren't for Steve! Thank you!
- Dylan
Steve DuBarry from the London office was very thorough in explaining my options. Helped me in choosing the best solution for my circumstances. The results were very satisfactory. I would recommend anyone requiring financial advice to see Steve.
- Emily M Cosby
Working with 4 pillars has been an eye opening experience for me.
I had very little faith that I would ever be able to successfully manage my debt. Now that I've worked with Steven DuBarry I feel like I can start fresh and begin a life where I can relate to the financial world in a responsible way. Previously I lived life only half here partially because the weight of the debt I had accumulated made me feel like I couldn't really invest in my life or that I was cheating at being here and now I feel like I can look at my finances without feeling swallowed up.
The future looks much brighter!
- Nathalie Moynaugh
Just when I thought that it is impossible to resolve my financial problems and I'll never be able to stand on my feet again.. I contacted Steve from 4pillars.. He reviewed my case gave me all possible options.. Guided me.. And 4 months later here I am debt free and able to move on with my life... Thank you for all help and support on behalf of me and my family.. I highly recommend 4 pillars services specially Steven DuBarry.
- Sam Mghari
London Office:
Our office is located at 920 Commissioners Road East, Unit 205, London, ON N5Z 3J1 and our phone number is 226-777-8770
London Region Debt Restructuring Information
The 4 Pillars advantage gives our clients the peace of mind that comes from choosing one of the oldest and largest debt restructuring companies in Canada. Our debt restructuring, credit rebuilding and budgeting services, offered through our Clients For Life™ program, allow us to assist our clients remove the financial barriers they face, and move forward with their financial goals, be that saving for retirement, buying a house or putting their kids through school. No other Canadian company offers such an integrated system for creating financial stability.